HONDA Versatool Pruner Attachment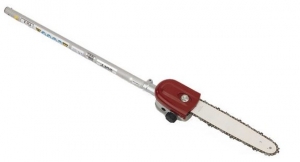 .
Cutting branches down to size.
For both the domestic and commercial gardener, the Versatool pruner attachment maintains constant torque to help you get through the toughest of branches. It can get to high places with its extended shaft, and can also be used with the extension pole to reach even greater heights.
Safety check
The pruner has a translucent oil reservoir, which makes it simple to check the level visually and prevents the attachment being damaged.
Contact us for latest prices, sales and service:
01295 211 790