HUSQVARNA Robotic Mowers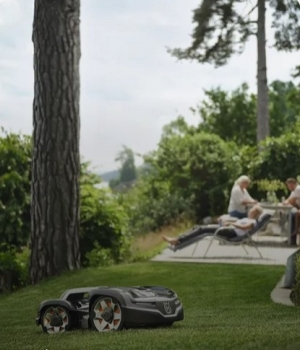 Automower® AM 105
310
315X
430X
450X
435X AWD
Never mow again
The battery-driven Automower® trims your entire lawn, automatically and quietly.
Rain or shine
Automower® will cut grass in most types of weather and is designed to handle wet conditions.
Neighbourhood-friendly
With a sound level as low as 58 dB(A), Automower® can easily work in the garden without disturbing you or your neighbours.
Keeping your lawn healthy can be a lot of hard work. The Husqvarna Automower® isn't just a lawnmower. It's a robotic concept that does the work for you — without your supervision, around the clock.
High or low, night or day, rain or shine
A random travelling pattern lets the Automower® find every corner of your garden. It can easily handle wet and rainy conditions, as well as difficult terrain, including slopes, holes and even temporary obstacles like pinecones and fruits. The Automower® is so quiet that it can work in the night without disturbing anyone. Through the mower app, available for selected models, you'll also have total control of its working hours, so you can have the lawn to yourself whenever you like.
Husqvarna Automower® constantly cuts the grass as it grows. This is by far the gentlest way to cut grass. Whereas ordinary mowing usually takes off several centimetres of clippings which are then collected and removed, the clippings from Husqvarna Automower® are only a few millimetres long. They will fall to the soil, mulch and fertilise your lawn.
Husqvarna Automower® protects against theft in several ways. A pin code is required for any intervention. An alarm will immediately sound if the code is ignored when the mower is stopped or lifted. It is useless when stolen, as it can't be matched to other charging stations. And when reported stolen, it will be red-listed in the Husqvarna worldwide service system.
Easy installation, effortless operation
Husqvarna Automower® is fully automatic, and works inside an electronic fence created by a boundary wire. When batteries run low, it returns to the charging station. After a one-time installation, which can be done by you, or by your dealer, you'll enjoy a more or less maintenance-free lawn for many years.
Husqvarna Automower® lessons
With Husqvarna Automower® some of the old rules no longer apply. Here are three easy lessons on how your Automower® does things differently.
You do NOT need to cut in straight lines.
You've probably learned you should mow the grass in straight lines. This isn't wrong, but it's hardly necessary for a perfect result. Husqvarna Automower® mows in irregular patterns, as this is better for the grass. Its low weight means you avoid streaks in the lawn. The machine can find its way through narrow passages in your yard, and even detect areas of the lawn that have grown longer, and cut the grass a little extra there. The result is a completely smooth lawn without streaks, that smells fresh every day.
You are NOT restricted by the weather or time of day.
With Husqvarna Automower®, the days of letting the weather decide when you mow the lawn, or timing your mowing to avoid disturbing the neighbors, are behind you. Our quiet Husqvarna Automower® gives you equally good results day or night, rain or shine. Several models are controlled by GPS — technology that also ensures even remote parts of your lawn get cut. Simply program an optional point in time, and set the mowing duration, and you can always have a newly mown lawn, no matter the weather or time of day.
You do NOT need to bag and remove your clippings.
The reason is simple: unlike traditional lawnmowers, Husqvarna Automower® mows only a little at a time, but frequently. The cutting disc shaves the grass clippings into barely visible pieces, that fall to the ground and decompose. This is the most ecological way to deal with clippings — fertilizing the lawn naturally. It's the natural cycle of things, and you'll hardly miss the tedious job of emptying of the grass collector.
Features:
Automower® Connect
Automower® Connect gives you full control of the mower right in your smartphone. You can easily send start, stop and park commands, check and adjust settings. If required also receive alarms and track your mower's position in case of theft
GPS-assisted navigation - PATENTED
An onboard GPS system creates a map of the garden, including where the boundary and guide wires are installed. Husqvarna Automower® will then register which parts of the garden it has covered and adjusts its mowing pattern accordingly.

LED headlights
Energy-efficient LED headlights for better visibility and control even in the dark. The lights will also start flashing if a malfunction occurs.
Remote object detection
Built-in sensors using ultrasonic technology helps the mower to detect objects, lowers the speed and avoid hard collisions.
Contact us for latest prices, sales and service:
01295 211 790

HUSQVARNA Automower® 105
Automower® 105
>>
HUSQVARNA Automower® 310
Automower 310
>>
HUSQVARNA Automower® 315X
Automower® 315X
>>

HUSQVARNA Automower® 435X AWD
Automower® 435X
>>
HUSQVARNA Automower® AM 430X
AM 430X
>>

HUSQVARNA Automower® AM 450X
AM 450X
>>