STIGA Lawnmowers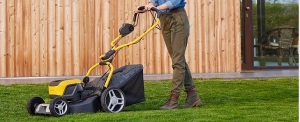 Multiclip 47
Multiclip 47 S
Multiclip Pro 50 SX H
Combi 50 SVEQ H
Twinclip 50 SB still available
Twinclip 50 SQ B still available
Twinclip 55 SH BBC
Twinclip 55 S-R-H BBC
Twinclip 55 SVEQ H

From garden tractors to zero-turn mowers, you'll find the right machine to suit all your mowing needs with STIGA.
Lawn mowers
For traditionalists, reliable and robust STIGA lawn mowers are the must-have garden tool. Choose from a wide range of cordless or petrol-powered mowers - for larger lawns and longer working sessions. Or electric mowers for smaller gardens. From mulching to collecting, you'll find the perfect mower for meet your gardening needs
SELF OR HAND PROPELLED

UP TO 4 DIFFERENT CUTTING SYSTEMS

COMPACT MACHINES REDUCE STORAGE SPACE

STRONG AND RELIABLE
Front mowers
Meet the challenges of mowing head on with a STIGA front mower. These machines offer great cutting and mulching performance thanks to high quality blades, and the unique articulated steering allows them to easily manoeuvre around trees, stones and flowerbeds. With a large range of accessories, you can use your STIGA mower all year round.
MANOEUVRABILITY AROUND OBSTACLES

PROFESSIONAL CUTTING RESULTS

CONTROL AND COMFORT

VERSATILE ACCESSORIES
Garden tractors
STIGA tractors can maneouvre around trees, bushes and garden obstacles with ease – just sit back and enjoy the ride. Boasting power steering and with a range of accessories, they are a truly versatile all-year round mower. And with large collector bags and fuel tanks, there is more time to mow and less time to stop to refuel or empty the grassbag!.
TACKLE COMPLEX GARDENS AND SLOPES

COMFORTABLE AND ENJOYABLE DRIVING

STRONG, ROBUST MACHINES

VERSATILE RANGE OF ACCESSORIES
Zero turn mowers
Tame unruly gardens and paddocks with a STIGA zero-turn mower. These powerful, robust machines take on rough and wild lawns with ease. Steering levers let you enjoy 360° manoeuvrability. And with their three-blade cutting decks, you'll be finished in no time. Nothing gets in the way of these mowers
SUITABLE FOR VERY BIG AND WILD LAWNS

MANOEUVRE AROUND OBSTACLES QUICKLY

LEVERS FOR EASY DRIVING

QUICK MOWING OF ROUGH GRASS
Contact us for latest prices, sales and service:
01295 211 790
STIGA COMBI 50 SVEQ H petrol lawn mower
Combi 50 SVEQ H
>>
STIGA COMBI 50 SVEQ H petrol lawn mower
Combi 50 SVEQ H
>>
STIGA MultiClip 47 petrol lawn mower
MultiClip 47
>>
STIGA Multiclip 47 S Petrol Lawnmower
Multiclip 47 S
>>
STIGA Multiclip 50SX Petrol Lawn Mower
50SX
>>
STIGA Multiclip PRO 50 SX H Petrol lawn mower
Multiclip PRO 50 SX H
>>
STIGA MULTICLIP PRO 50 SX H self propelled Lawn Mower
Multiclip PRO 50 SX H
>>
STIGA Multiclip Pro 53 SVX H 51cm Self-Propelled Lawnmower
Multiclip Pro 53 SVX
>>
STIGA Twinclip 50 SB 48cm (19") Self-Propelled Lawnmower
Twinclip 50 SB still available
>>
STIGA Twinclip 55 S-R H BBC 53cm Self-Propelled Lawnmower
55 S-R-H BBC
>>
STIGA Twinclip 55 SH BBC 53cm Self-Propelled Lawnmower
55SH BBC
>>
STIGA Twinclip 55 SVEQ H Lawn mower
Twinclip 55 SVEQ H
>>