HONDA Small Miimo Robotic Mowers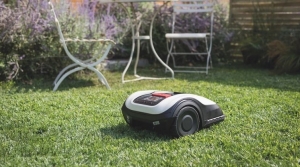 SMALLER, SIMPLER, SMARTER
Introducing the latest addition to the Miimo family: Small Miimo is an intelligent robotic mower that's perfect for mowing smaller lawns. Big on cutting performance, it's easy to set up with many new features.
MAP & MOW
The simplest way to a lovely-looking lawn.
An easy 4-step setup process will map your garden's layout, calculating its size creating a mowing calendar that fits around you. Small Miimo will return to base in time to recharge itself, then resume cutting from where it left off
PLACE & MOW
Mowing those hard-to-reach spaces.
With the Place & Mow feature, Small Miimo can mow precise areas, such as underneath garden furniture. All you have you have to do is manually activate it, place it on the lawn and Small Miimo does the rest, cutting areas of 2 x 2m or 3 x 3m square.
ENGINEERING FOR LIFE
With the new Small Miimo working for you, you'll soon notice a big difference, take a look at its unique features.
Contact us for latest prices, sales and service:
01295 211 790
HONDA MIIMO 3000 Robotic Mower
MIIMO 3000
>>
HONDA MIIMO 310 Robotic Mower
MIIMO 310
>>
HONDA MIIMO 520 Robotic Mower
MIIMO 520
>>
HONDA MIIMO HRM 40 Live Robotic Mower
HRM 40 Live
>>

HONDA MIIMO HRM 40 MIIMO Robotic Mower
HRM 40
>>

HONDA MIIMO HRM 70 Live Robotic Mower
HRM 70 Live
>>