BELROBOTICS Ball Picker Connected Line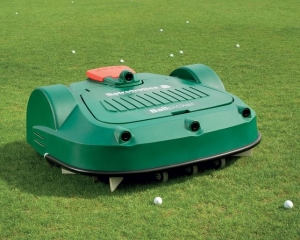 Ball Picker
THE BALLPICKER: YOUR DRIVING RANGE BALL COLLECTOR
The Ballpicker is an automated ball picker for driving ranges up to 30,000 m² A patented worldwide exclusive for completely autonomous operation and a driving range that is always accessible.
A TECHNOLOGICAL MARVEL
The Ballpicker is fitted with a roller with five sets of four polythene discs providing quiet and systematic collection. The built-in sonar sensors guarantee total safety on the driving range. Imagine your stock of balls being well supplied at all times, thanks to the work carried out by the robot day and night. Its GPS system guides it back to base along the quickest route, to empty its load of balls and charge its batteries.
CAPACITY OF 300 BALLS
The Ballpicker is fitted with a ball tank with a capacity of 300.
After recovering 250 balls, the collector of golf balls on the driving range goes back to base to empty its load in the technical recovery pit, and will then go to charge its batteries. The balls are automatically forwarded to the ball cleaner and distributor. The efficiency of the robot is even further increased if the concentration of balls is higher. Programmable in multiple zones and can be controlled by commands sent by SMS.
12 000 balls in 24 hours
Continuous access to the driving range for golfers
Energy saving
Operating area
30.000 m2
Efficiency
13 collecting discs
Electricity costs
€120 / year
Safety
4 sonars
Advantages
Tank for 300 balls
40 x lower CO2 emissions than a combustion engine machine with the equivalent return
No noise disruption for golfers
No ball is pushed into the ground
Warning in case of theft or malfunction
Multiple safety features
GPS guidance system
SMS programming system
Continuous access to the driving range for golfers
Accident prevention
Automate ball collection on the driving range outfield
While the Bigmow golf mower maintains the turf, the Ballpicker concerns itself with collecting the balls. All in all, the dream team for greenkeepers. Day and night, delegate the management of an area of up to 30.000 m² with collections of up to 12.000 balls every 24 hours.
Better allocated labour
Automating ball collection frees up your staff to be able to undertake other tasks. For their part, the players will be able to continue their training unhindered, in an innovative club
Continuous ball collection
When its routes are programmed, the Ballpicker will not stop running over the driving range outfield. As soon as the 300 ball tank is full, the ball collector goes back to its base to unload them into a recovery pit.
Multi-zone working
Depending on its programming and peak periods, the Ballpicker can concentrate exclusively on zones where the density of balls is the greatest.
The Ballpicker method
If you like world exclusives, you are going to love the Ballpicker. When its routes are programmed, it will not stop running over the driving range outfield. As soon as its ball tank is full (>250), the ball collector goes back to its base to unload them into a recovery pit. In very little time, the balls are cleaned and forwarded to the ball distributor. The Ballpicker goes back to its electrical recharging station of its own accord. We have thought of everything.
Performance and connectivity
The Ballpicker is a technological marvel. It manages driving ranges of up to 30.000 m² thanks to its collection width of 95 cm. Average absorption of 300 balls even on grounds that can have a slope of up to 30 %. A full charge of its LiFePO4 type batteries takes barely 75 minutes. For the sake of connectivity, the Ballpicker can be integrated into your fleet of remote control robot mowers.
Quiet running and ball protection
Belrobotics robot mowers combine silent equipment and effective results. The Bigmow can mow and silently maintain golf driving ranges without destroying balls due to patented protection discs which keep the balls away from the cutting blades. During this time, the Ballpicker automates the collection of balls inaudibly (max. 52 dB) and its limited weight (70 kg) avoids the balls being pushed into the ground. You will therefore benefit from a world exclusive.
Respect the environment and take a sustainable approach
Golf and nature are, of course, inextricably linked. The Belrobotics robots have a low electrical consumption (540 kWh/year on average) and have 10 times lower CO2 emissions than equivalent combustion engine machines. The combination of Bigmow and Ballpicker enables both the spreading of chemical fertiliser to be reduced significantly and for balls to be collected efficiently, without practically any human intervention.
Working at night and in multiple zones
By day, the Ballpicker works at full capacity according to the density of balls to be collected. At night, it can continue and bridge any delay caused by a period of too great accumulation. Even stronger: the multiple zone programme. In peak periods, it concentrates exclusively on zones where the density of balls is the greatest. In a second phase, the robot proceeds with collecting balls in the other zones. It is you that decides.
Take care of your club image
A nurtured driving range commands the respect of players and guarantees the image of the club. It is therefore necessary to organise a regular golf course mowing system combined with efficient ball collection. Belrobotics robot mowers can be organised in a fleet. Each machine remains autonomous but covers a dedicated area configured due to your app. Management controlled at your fingertips for the most demanding greenkeepers.
Contact us for latest prices, sales and service:
01295 211 790