We specialise in servicing and repair of all makes of garden machinery, chainsaws, strimmers, brushcutters and mowers. We offer mower servicing from just £72, strimmer servicing from £65, Ride on mowers serviced from just £235, Cylinder mowers serviced from £125, Chainsaw and Hedgetrimmers service for £75, Blower/Vacs service for £55, ATVs and cultivators POA.
FREE EASY PARKING AND LOADING FACILITIES ON SITE
Opening Hours: Monday to Friday 08:00 to 17:00. Saturday 08.30 to 14:00. Closed Sunday.
For attended out of hours service please call: 01295-690522

Due to increased new business, we are currently looking to recruit full and part time experienced time served Horticultural and Agricultural Engineers to be based at our main Warmington depot. Based primarily in our workshops near Banbury the role involves repair and maintenance of customers machines and equipment as required, warranty assessments and repairs, PDI of new machines and on site visits where needed. As we deal with an extensive number of manufacturers and suppliers it is essential that applicants are adaptable and capable of working on their own initiative as well as having specialist product knowledge of our main brands. A van, fuel, protective clothing allowance and footwear will be available to successful applicants along with the opportunity to undertake specialist dealer based product training. For more information please call Frank on 01295 690522 or email: jobs@fnpile.com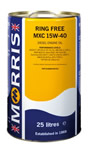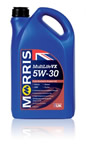 We now have added to our stock of Automotive Oils to compliment our extensive range of Morris oils and lubricants, in order that we can supply top quality modern day oils for today's engine and drive train demands.
We stock a range of MORRIS 10/40, 5/30, 5/40, MULTILIFE, MULTIVIS AND SERVOL brands ranging from fully synthetic engine oil to Semi Synthetic and Mineral oils in 5 and 1 litre quantities, Meeting the latest API specifications.
We also stock Ring Free 15/40 MXC and next generation VS fleet oils, EP gear oil, Liquimatic/Dexron ATF transmission fluids, Moly grease, Triad 32 and 46 Hydraulic oils, premium oils and universal farm oils in 5 Litre and 25 Litre quantities.
We can supply other specialist oils such as Lodexol transmission oils from the Morris range on request, but a minimum order quantity may apply, please phone first for details.

Overwintering petrol engines using conventional petrol can cause serious problems with fuel systems due to fuel deterioration from evaporation. Aspen Alkelate fuel overcomes these issues by remaining stable, together with good starting, performance and emissions characteristics resulting in increased reliability and performance for ALL petrol 2 and 4 stroke engines.
To discover more Click here



In need of welding supplies and consumables in the South Midlands?
We are agents for BOC and Weldability and stock a range of consumables and spares for MIG, Stick and Gas welding. We also stock and supply BOC gases to BOC account customers. Calor Butane and Propane LPG also in stock. Metal cutting and grinding disks, various paints, primers and thinners available from stock.. Call Ray or Andrew on (01295) 211790 to discuss your requirements.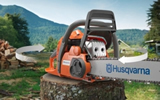 We are authorised HUSQVARNA chainsaw,brushcutter and hedge trimmer agents, so if you are looking for parts or need your Husqvarna machine repairing or servicing give us a call or just pop along to see us. We also stock a range of new Husqvarna equipment, so if your machine is beyond ecomonic repair, take advantage of our generous trade in deals on your old machine and invest in a brand new replacement!
To discover more Click here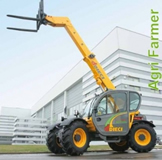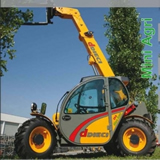 If you are looking for a new Telehandler Machine why not consider a Diesi Telehandler? Diesi manufacture a wide range of Telhandlers from the Mini Agri throught to the 21 Tonne Hercules. The Agri range now includes a range of pivot steer machines. With a huge range of capacities and configurations and innovative design features and integrated CanBus control systems, coupled with the latest Tier 4 low emmission engines Diesi bring you all the advantages of modern technology and design.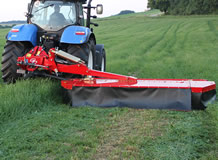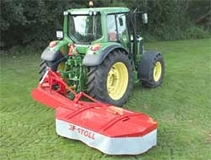 The CM 100 series of drum mowers is characterised by a very sturdy construction, simple maintenance and a design of guard that prevents plant residues accumulating on top of the machine. The weight of the machine is very low making it possible to use small tractors.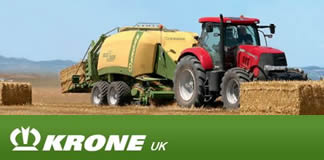 It's time to make hay again!, so don't forget our range of Krone round fixed and variable chamber balers, from the Krone Bellima through to the Krone High Speed 'Big Pack' range; Krone have a machine to suit all your baling and wrapping needs.
For more information please click here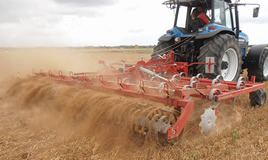 For all your minimal cultivation requirements see our range of Kongskilde stubble cultivators, such as the Kongskilde VIBRO FLEX and DELTA range alongside &Oumlverum Vari Flex reversible ploughs for more conventional soil cultivation.
For further information please click here