HUSQVARNA CHAINSAWS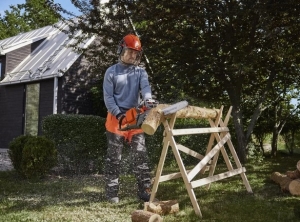 120i still available
120 Mk II
135 Mk II
435 II
440
445 II
455 Rancher
527 XP
550 XP
T 536 Li XP still available


Our range of petrol chainsaws, battery and electric chainsaws includes everything from heavy-duty professional top handle chainsaws to lightweight chainsaws for domestic use and chopping firewood, as well as industrial chainsaws for felling and pruning. A Husqvarna chainsaw will be your reliable partner no matter what forestry challenges you're facing.
Fewer burdens on the environment
It goes without saying - nature is our priority and mutual concern. Together we have the power to minimise our strain on the environment. Husqvarna petrol saws are all equipped with the unique X-TORQ® engine which make them less fuel consuming and reduces the exhaust emission levels in accordance with the world's most stringent emissions regulations.
Use it with flexibility and safety
We are well aware that a safe and sturdy operation means everything in forestry. Whether you are an arborist in need of a professional chainsaw, or a homeowner looking for a domestic chainsaw, the range of chainsaws from Husqvarna will enable you to operate securely, confidently, and with flexibility.
The combined choke/stop control will make your petrol saw easier to start and prevents it from flooding. Thanks to the centrifugal air cleaning system wear will be minimised, and the time you can use the chainsaw between filter cleanings is extended. Our SmartStart® feature means that resistance in the starter cord is reduced by up to 40%, enabling you to start your machine quickly with minimum effort.
Your Husqvarna chainsaw will enable you to operate with security and flexibility
Husqvarna's battery chainsaws are quiet, highly efficient and lightweight and offer similar performance to their petrol driven equivalent.
Silent and cordless operations
It's possible to perform without fuel. Husqvarna's battery chainsaws and battery top handle chainsaws for professionals are highly efficient and provided with a powerful 36V Li-ion battery, which combined with a specially developed brushless motor, gives you a performance similar to our petrol chainsaws. In short – a very quiet, efficient and lightweight chainsaw at your service.
Contact us for latest prices, sales and service:
01295 211 790

HUSQVARNA 15" Chainsaw 435 II
435 II
>>

HUSQVARNA 15" Chainsaw 550 XP® Mark II
550 XP®
>>
HUSQVARNA 20" Chainsaw 572XP
572XP
>>
HUSQVARNA 440 18" Chainsaw
440
967 18 77-35
>>
HUSQVARNA 450 II Chainsaw
450II
>>
HUSQVARNA Battery Chainsaw 120i
120i still available
>>
HUSQVARNA Chainsaw 120 MkII
120 MkII
>>
HUSQVARNA Chainsaw 135 Mark II
135 Mk II
>>
HUSQVARNA Chainsaw 445 II
445 II
>>

HUSQVARNA Chainsaw 455 Rancher
455
>>
HUSQVARNA T 536 Li XP Battery Top Handle Chainsaw
T 536 Li XP still available
966 72 92-12
>>